Baby Care Essentials That You Need Before Your Baby Arrives
Before the arrival of your little one you should be preparing yourself to get a few baby care items. You will have to ensure that you are well prepared in welcoming your little one. The best time to shop for baby care essentials is before your third trimester. Of course your partner could still help out but there is a certain joy in shopping for your baby's necessities. 
When you are shopping for your baby this does not only include clothes but there are many other products that you should be stocking up on. As carried away as you might get with looking at adorable baby socks, mittens and onesies you should also know that those aren't the only things your baby needs. 
Below are a few baby care items that you should be adding to your shopping list:
Baby Care Grooming Items
The items listed below will help you keep your baby clean. Besides, they are also needed so that your baby's skin does not get hurt as it can be very fragile at this point.
Cotton Balls
When your baby has just arrived, try to avoid using anything rough on your baby's skin. The best baby care tip is to use cotton balls to clean your baby's bottom. They will not hurt or create scars on your baby's fragile skin. Besides cotton balls can also be used to clean the sides of your baby's eyes. Avoid using cotton swabs as they might accidentally poke your little one's eyes. 
Besides, the best baby care way to clean your little one using cotton balls. Is to damp the cotton balls. This would make the cleaning process smooth and easy. 
Baby Care Oil
Next on the list of baby care essentials would be oil. Baby oil is the best way to get rid of cradle cap. It is a crusty yet harmless scalp condition that might develop among newborn babies. Besides, baby oil and cotton balls are the best way to remove stubborn dirt from your baby's skin. Try not to over use baby care oil as they could make your little one too slippery. 
Baby Care Wipes
Once your baby is a few weeks older, you can start using baby wipes. This is a much needed baby care product as it will come in handy when you are out with your little one. Try to get the ones that are fragrance and alcohol-free. This is because your little one may be allergic to them. Baby care wipes are great for cleaning messes on the go. 
When you take your baby out, sometimes you might struggle to find a way to clean your baby's leaks, poops, spits and pukes. Having wipes is a great baby care idea. As you can just carry them wherever you go and it makes your cleaning process so much easier.
Baby Bath Liquid or Soap
Look for baby soap with an ingredients list that is short. When your baby is still young, you would only be needing a gentle cleanser. Look for a soap that does not have too many additives or fragrances. If you are unsure, try getting recommendations on the best soap for your newborn baby.
Baby Shampoo
Look for a formula that is tear free. This baby care tip will protect your baby's eyes from getting irritated. A shampoo that is tear free works best with infants as they do not know how to close their eyes tightly during bath time.
Baby Skin Care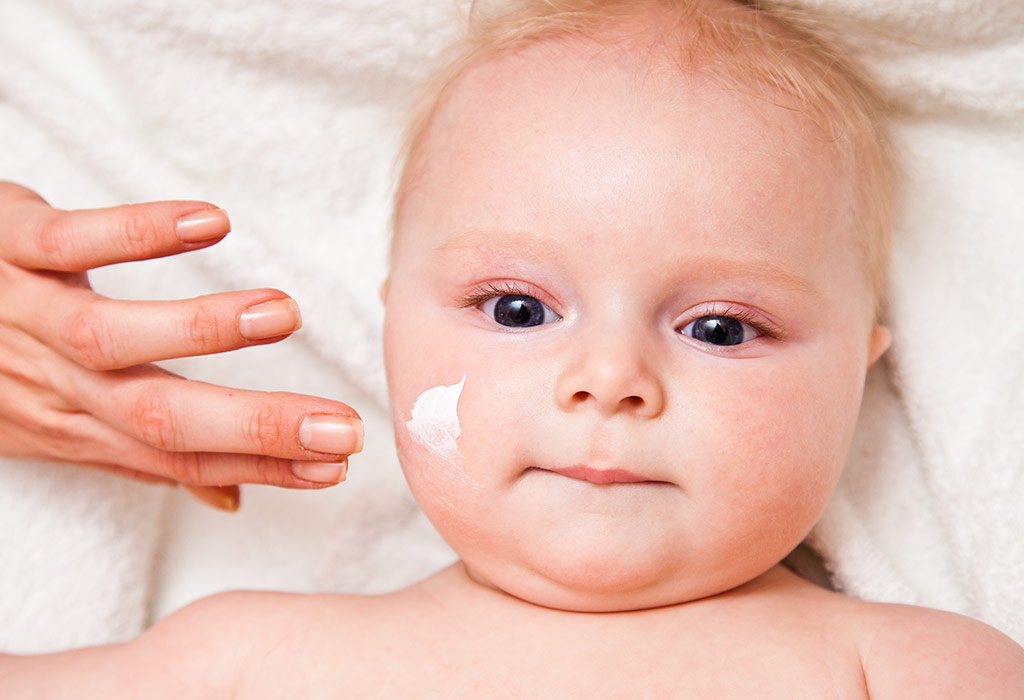 As a baby care necessity, you should always include all sorts of baby care creams and ointments that will come in handy. They are important as they could help prevent baby rashes, sooth your little ones skin and help with moisturising. Another important baby care item for the skin is petroleum jelly. It comes in handy for many things. Such as lubricating your baby's thermometer and preventing diaper rash.
Nail Clippers and Scissors 
A baby care tip to keep in mind is that baby nail clippers and scissors are not the same as adult ones. When you are shopping for them, be sure to confirm that it is meant for babies. Get a magnifier as well, so that you will be able to focus more. Also, look for clippers and scissors with rounded tips instead of pointy tips. 
Wide Toothed Comb and Brush
Some babies might not have hair till they are a little older. But some babies might start growing their hair really fast. No matter what, you should always have their hair essentials stored safely as you will never know when they could come in handy. If you baby already has hair, it is best to detangle their hair when it's wet. This way you could prevent your baby's soft scalp from getting hurt.
Baby Bath Tub
Your little one can be very slippery when they are wet. As a parent you may tend to get nervous every time you want to give your baby a bath. You may have already read baby bath tips. However, as a reminder you should include a baby bath tub on your baby care essential, shopping list. A baby bath tub is the safest and easiest way to support your little one during bath time.
Baby Care Medicine List
Now that you know the grooming essentials that you need for your baby care, you should also know the medicine must haves that you should be including on your shopping list as well.
Digital thermometer 
The top of the list is a digital thermometer. This is because they are fast, accurate and they do not cost that much. You can read on tips on how to check your baby's temperature. There are two ways either rectally or from under their armpit. A thermometer is important as you need to monitor your baby's temperature. 
Nasal Aspirator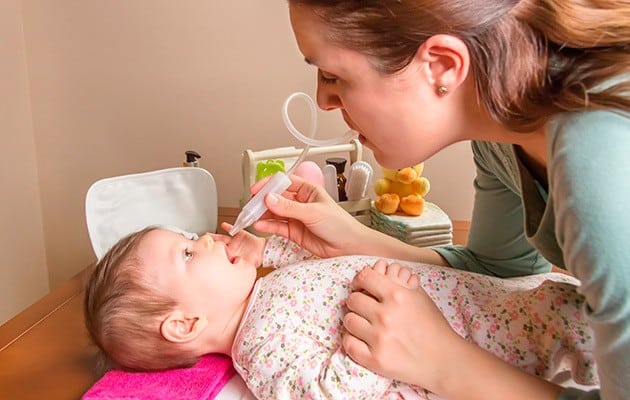 Your little baby is not allowed to use tissues to clean their stuffy nose. As a parent you will definitely need this baby care products to make your life easier. You can go to your pharmacy and they will definitely help you in getting a nasal aspirator. Moreover, it is very easy to use. Just squeeze the bulb first then insert it in you baby's nostril. Once it is inserted, release the bulb and it will suck your baby's mucus.
Cool Mist Humidifier
If you have decided to get a humidifier, it is best to stick with the one that has cool mist. The reason is, the warm one might cause burns. You should also follow the cleaning instructions and clean them regularly. This will prevent bacteria and growth of molds. A cool mist humidifier will add moisture to the air. It is good in easing coughs and congestions that are caused by colds. 
Heating Pad
A heating pad is good in soothing any aches that your baby might develop. A baby care tip would be to wrap the heating pad in a cloth to prevent your baby's skin from getting overly heated or burned. 
Hydrogen Peroxide
This baby care essential is for cleaning cuts incase your baby gets injured. You could also get it together with a nonaerosol spray that numbs and relieves pain. This will make the cleaning process faster and easier. 
Rubbing Alcohol or Alcohol Wipes
You might want to get as much as you can. Always ensure you store it in a place that is easy to find. This is important in helping you sterilize your baby care thermometer. 
Baby Care Creams
The creams that you might want to include to your list are hydrocortisone cream (0.5%) or calamine lotion. These creams can be stored  a side incase of rashes or itchy bug bites. 
Baby Care Sunscreen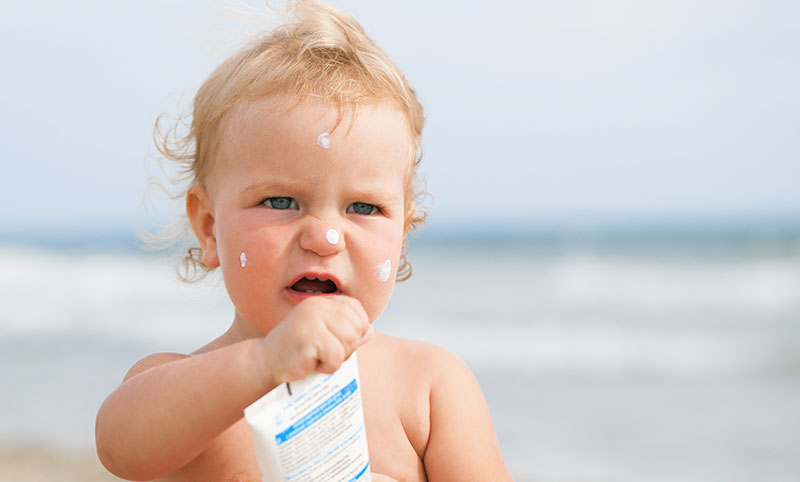 When you are taking you baby out, especially if its hot and sunny never forget to apply sunscreen. No matter how big their hat is or if you're using an umbrella stroller, you would still need to apply more protection for your baby's skin. Baby friendly sunscreen is safe to use on your child even if they are younger than six months.